We raised $5.2M seed funding to build iconic games and experiences for the metaverse, starting with Roblox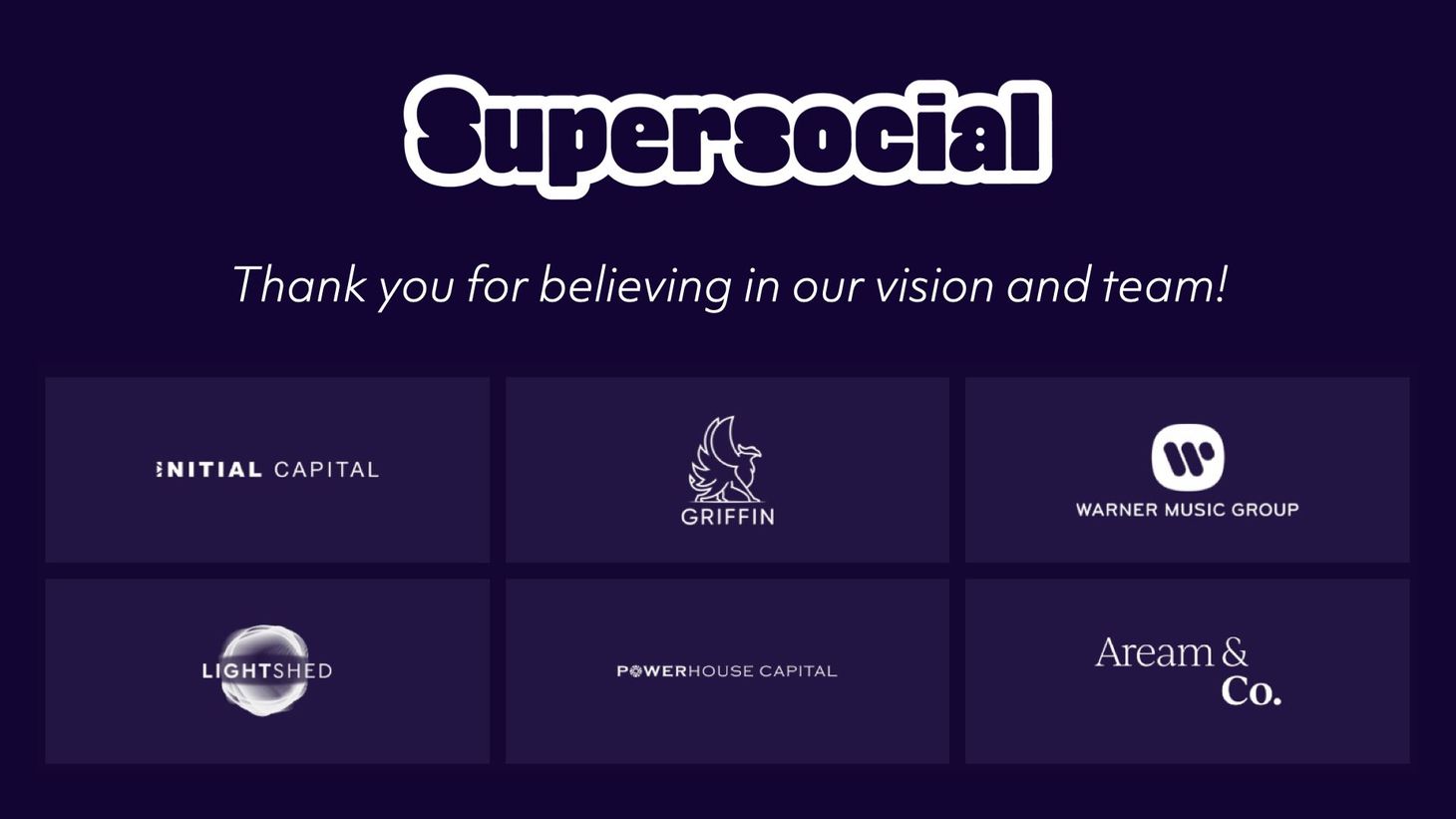 The funding comes from a vanguard of investors including Initial Capital, Griffin Gaming Partners, Warner Music Group, LightShed Ventures and TIME Ventures.
We started our journey by creating games and experiences for the Roblox platform, inspiring people to collaborate, socialize and express themselves through play, as we look to the future of virtual worlds and interactive experiences. The experiences that we're building at Supersocial are not merely "games", they are worlds that illustrate our approach to living in the metaverse - worlds that power creativity, foster inclusivity, and drive prosperity.
The seed funding was led by Initial Capital (founded by the serial entrepreneurs behind Playfish who led seed rounds for Supercell, Hutch Games, Nexmo, Supersolid and Space Ape), with investment from Griffin Gaming Partners (investors in Discord, AppLovin, Skillz, Forte), Warner Music Group, Marc Benioff's TIME Ventures, LightShed Ventures (investors in Genvid, Cameo), Powerhouse Capital (investors in Calm, MasterClass), Aream & Co, and prominent angel investors (see below). Supersocial is delighted to partner with this distinguished list of experienced entrepreneurs and investors who share our vision for the future of gaming and the metaverse.
Here's why Initial Capital invested in Supersocial:
Ken Lamb, co-founder of Initial Capital, who also joined the Supersocial Board: "We are in the midst of a seismic shift in the nature of mobile gaming driven by super-fast mobile data, ubiquitous social media, user-generated content, massive multiplayer online worlds and a merging of 'real' and 'virtual' worlds on platforms like Roblox and other emerging metaverses. At Initial Capital, we have been intensely focused on partnering with the next generation of leaders in this rapidly emerging and evolving universe and are excited and honored to partner with a visionary like Yon and his extraordinary colleagues at Supersocial."
Our team is very excited to be building for Roblox, the Internet's "home page" for a new generation an era-defining platform comprised of four key enabling pillars: (1) game engine; (2) publishing & distribution; (3) social network; (4) cloud computing services. We are amazed by what the Roblox team has built and accomplished in recent years and we are honored to be building in its realm. Most importantly, we're truly excited to serve a growing global community of passionate fans and players. We couldn't agree more with what Marc Benioff, one of Supersocial's investors (through his TIME Ventures) recently said during an interview on Yahoo Finance: "Roblox is a vision for the future of digital interactions. You're creating custom worlds, you're creating custom applications, but they're all built on a consistent metaverse platform."
While misconceptions remains as to what Roblox is and what it truly provides as en eco-system, we are committed to be playing an instrumental role in the evolution of Roblox as a premier metaverse platform over the coming years.
Here's why LightShed Ventures invested in Supersocial:
Brandon Ross, partner at LightShed Ventures: "Roblox has created the largest current building block of the metaverse and the one place with the tools for anyone to become a developer of quality experiences. Nonetheless, a few professional studios will lead the charge in bringing even more immersive experiences onto the platform. Supersocial is at the top of that list and we are eagerly anticipating the launch of Ghostopia."
Supersocial is currently preparing multiple titles for launch on the Roblox platform including the much anticipated experience Ghostopia - a multiplayer RPG set in a haunted world where life meets afterlife, where players build and decorate the haunted mansion of their wildest nightmares. We've also established Supersocial Labs, an evolution of the "cell" concept in mobile games tailored to metaverse platforms like Roblox. This bespoke division of Supersocial recruits and employs aspiring Roblox developers to create thrilling experiences in rapid development cycles and provides capital, operating expertise, support and infrastructure to help creators bring new unique games to life. Through  Labs, we have multiple games under development, all of which are expected to be released in the near future.
Supersocial was founded by serial entrepreneurs, Yonatan Raz-Fridman "Yon" (CEO) and Pedro Romi (CFO) who previously founded pioneering, venture-backed consumer technology and Internet companies - Kano and Retroca respectively. While Retroca was acquired by Enjoei, Latin Ameriac's largest marketplace for children's products, Kano is a category innovator in the consumer EdTech space and recently launched a music product with Kanye West. We were joined by co-founders Luiza Justus (Creative Director) and Tatiana Wlasek (VP Marketing & People Experience). Together, as a founding team, we've set to out to build the Nintendo of the metaverse age with products that make a lasting impact on fans.
To achieve this ambition, we brought on board industry leaders from companies such as Nintendo (Chris Campbell, Principal Designer), Big Fish Games (Peter Yiap, Technical Director), and Dreamworks (Cara Khan, Art Director) who bring with them a stellar track record across game design, engineering and art. In an effort to create the world's most talent-centric metaverse company, these leaders empower and support a wider team of determined professionals from the game industry as well as veteran Roblox creators.
The Supersocial organization is united around a culture of trust, determination, and joy. As a fully distributed organization, with teammates already operating in over 20 cities in 4 countries and 6 time zones, we invest heavily, both time and capital, in creating a culture where the most determined talent thrive, both personally and professionally.
Joe Stramaglia, Lead Game Designer (Ghostopia): "Supersocial combines traditional game industry expertise with the passion of young creators backed by incredible leadership. We hold true to our values and our mission. We put people first."
Supersocial is setting out to build the Nintendo of the metaverse age with products that make a lasting impact on fans. To achieve this ambition, we prioritize and aspire to build the world's most talent-centric metaverse company. The funding enables us to double down on our investment in attracting and developing the very best talent, nurturing a resilient culture, and creating iconic games and experiences that delights the incredible Roblox community.
In the news
More resources
Investors
Funds
Initial Capital
Griffin Gaming Partners
LightShed Ventures
Aream & Co.
Powerhouse Capital
Marc Benioff's TIME Ventures
Companies
Angels
Roberto Justus
Stefano Arnhold
Ben Holmes
Jonathan Brandt
John Makinson
Cesar Mufarej
Victor Brasiliero
Eduardo Lindenberg
Felipe Affonso
Gustavo Pessoa
Anderson Brito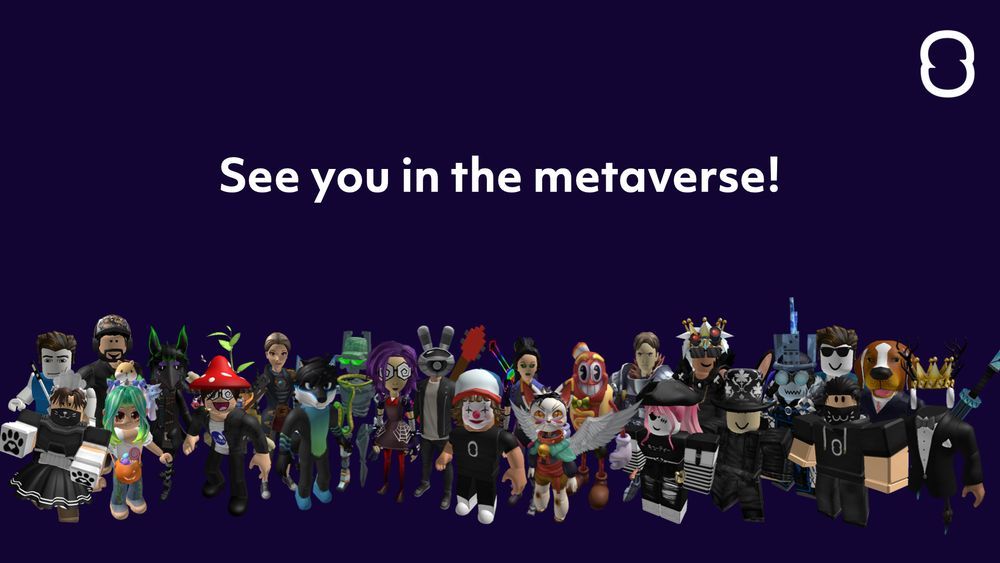 Supersocial Newsletter
Join the newsletter to receive the latest updates in your inbox.