Baby Queen's Official UGC Collection Goes Viral on Roblox!
8/24/23 - In just one weekend, over 320,000 visits and 90,000 group members accessed a virtual shopping experience for rising music sensation Baby Queen, taking the Roblox platform by storm. The 2D store experience features a smash-hit collection of virtual fashion items brought to life by Supersocial in partnership with Polydor and UGC creator Lovespun. The rapidly-executed event is a viral success for both Baby Queen and the Roblox community, bringing hype to Baby Queen's dream collection in anticipation of her upcoming album launch. This event ties drops to player actions in our experience, leveraging Roblox's most recent limited UGC updates into a high awareness and reach solution.
"Supersocial's growth and success is a testament to our dedication to innovation, excellence and a deep connection with the Roblox community," says Supersocial founder and CEO Yon Raz-Fridman. "Our collaborations and products have not just been launches but landmarks, shaping the future of immersive 3D experiences. The Baby Queen collection represents another exhilarating step in this journey while looking forward to the future."
Baby Kingdom UGC Collection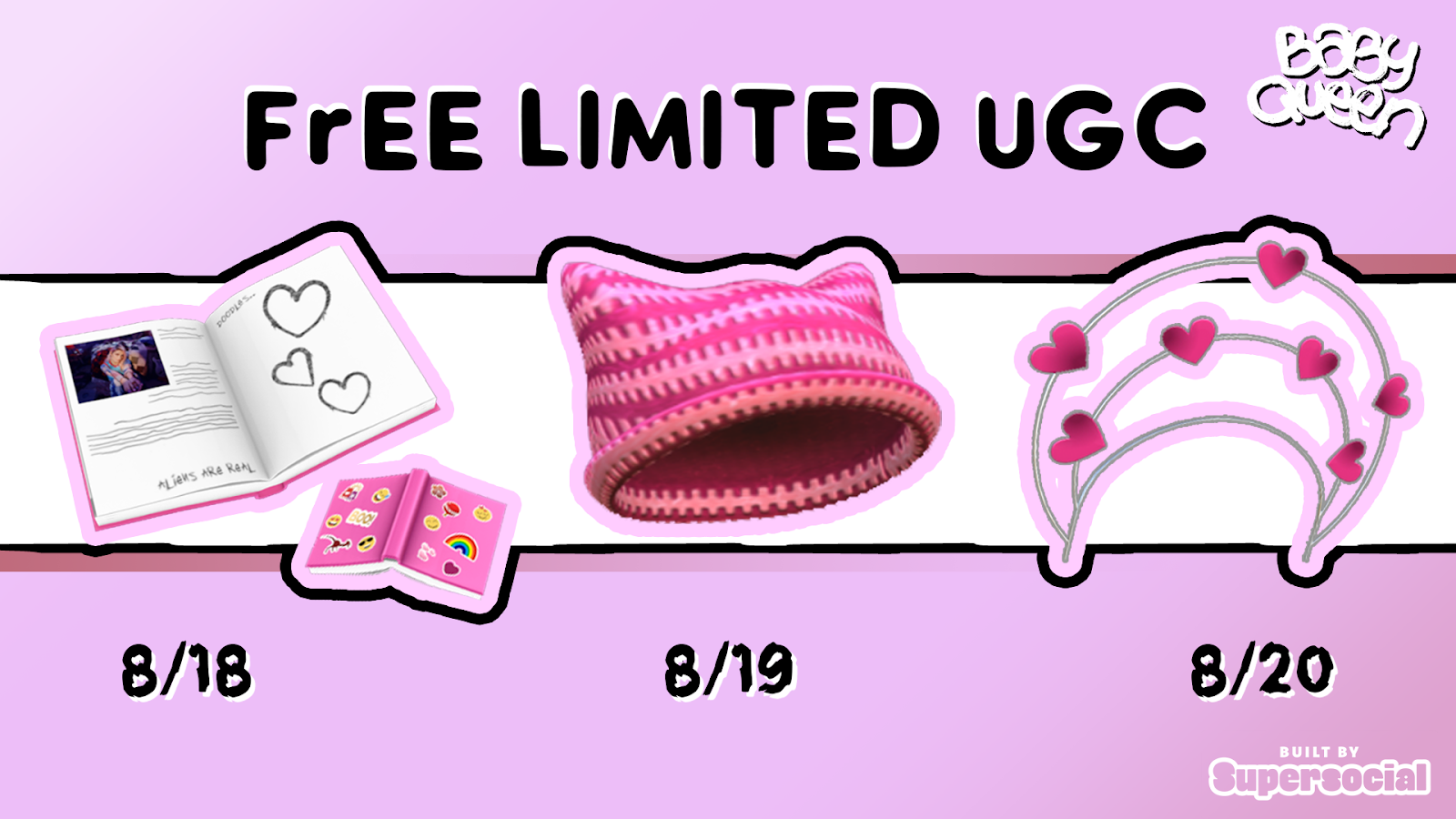 Hitting over 21,500 peak concurrent users in one weekend, double what virtual concerts currently achieve, the Supersocial team created a clever launch strategy focused on simplicity and making an impact on the community. Rather than launching a collection solely on the Roblox avatar marketplace, our team opted to create a hub where players can access the entire collection. The Baby Queen Roblox experience is a 2D one-stop shop where players can browse and shop the official Baby Queen UGC collection and claim free Limited UGC items. To claim the items, players joined the Baby_Kingdom Roblox group and collected up to three free Limited UGC items – available only for a limited period of time – with new items debuting each day. The experience earned 1.6 million impressions, with over 80,000 daily active users and 90,000+ group members, which is the Roblox equivalent of followers on social media. Event notifications supported this organic growth, promoting the group and creating an innovative way for players to bring friends directly into the experience. The Roblox community showed their excitement and love for the collection and experience by showing up in droves!
Baby Queen, a Roblox player herself, felt it was vital to bring pieces infused with her vibe and personality to the platform she loves. Each piece in this carefully-curated collection speaks to her brand and was incredibly well-received by the community thanks to careful attention to trends players love. Featured in multiple TikToks created by community members with over 700,000+ accumulated views, this partnership ensured that Baby Queen's debut on the Roblox platform was a roaring success.
"Our partnership with Supersocial for the Baby Queen virtual fashion collection has been a thrilling collaboration," said Luke Ferrar, Innovation Director at Polydor Records. "Supersocial's track record of innovation, creativity, and profound understanding of the Roblox landscape made them the ideal partner to bring this vision to life."
Andrew Bunton, Digital Creative Strategist at Polydor Records adds: "Together, Luke and I have worked with Supersocial in crafting a collection that transcends traditional boundaries, infusing Baby Queen's unique aesthetics into the Roblox universe. This project goes beyond mere fashion; it's about building a community, fostering expression, and creating something that resonates with the new age of digital natives. We couldn't be more excited to explore uncharted territories with Supersocial."
IRL Aesthetic Meets the Roblox Baby Kingdom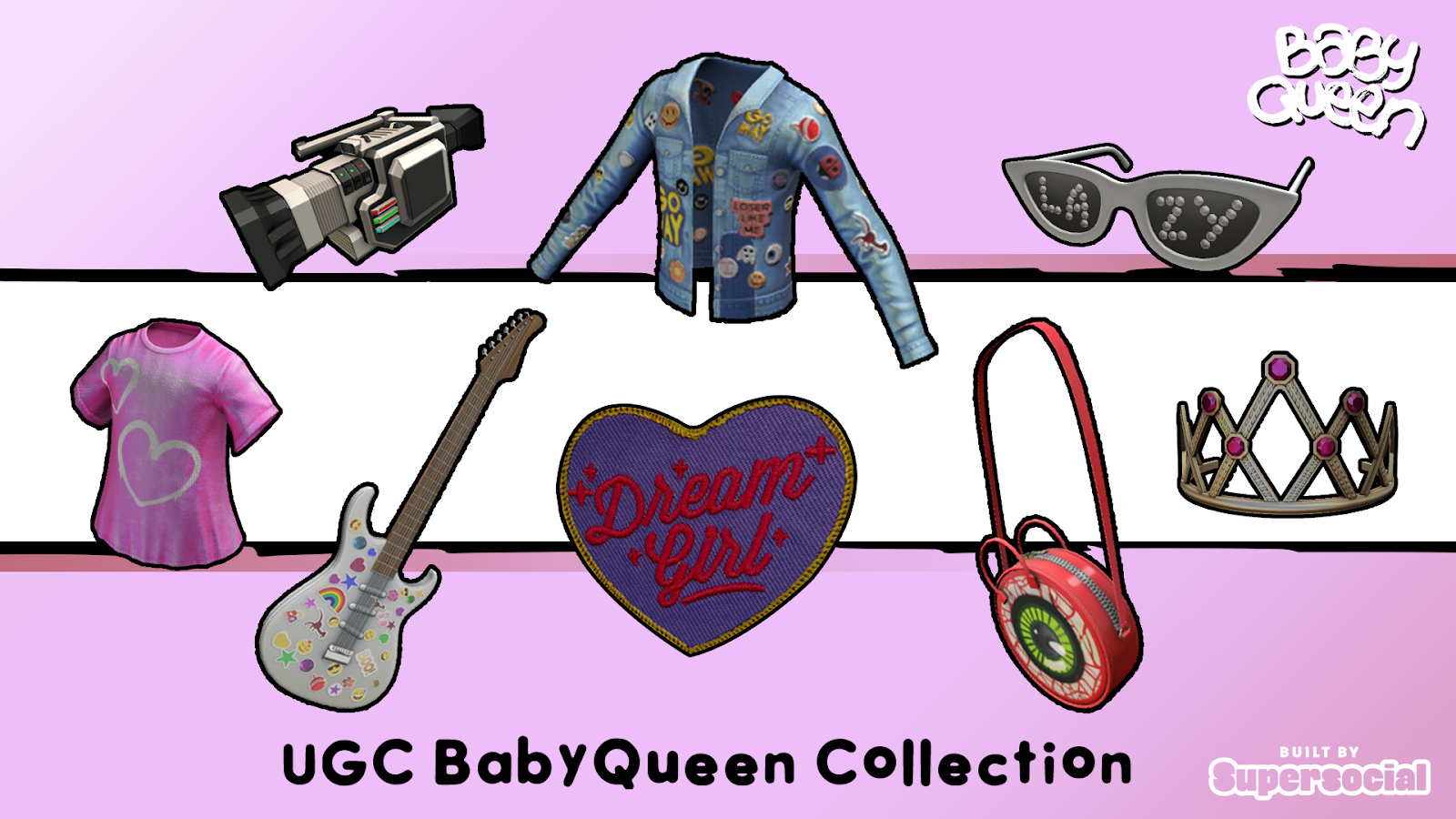 A Heartstopper Patch Denim Jacket, Baby Queen's sticker-covered guitar, an eyeball purse, and "Lazy" sunglasses are just some of the iconic items featured in Baby Queen's UGC collection. Supersocial's creative team drew inspiration from Baby Queen's album artwork and style to create a curated mix of items celebrating the Y2K trend.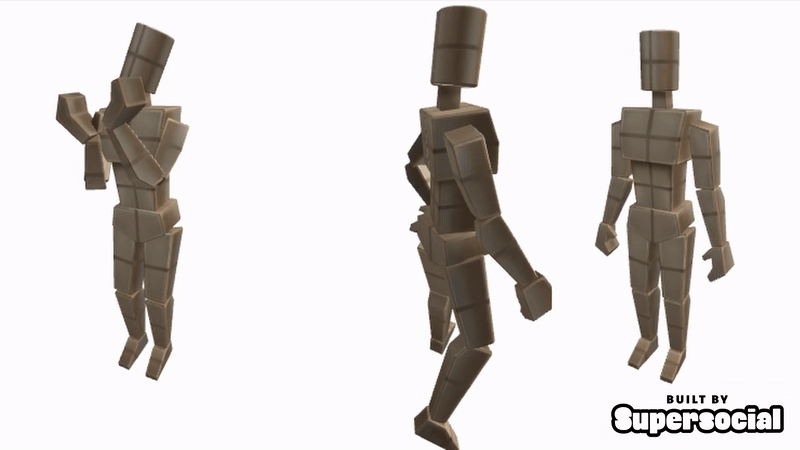 Players can also purchase unique emotes inspired by Baby Queen's attitude and quarter-life crisis humor. Featuring a Dramatic Bow, iconic Strut, and energetic Air Guitar, emotes from this lively collection were among Top 30 best-selling marketplace items just from this weekend's launch.

As part of their community-focused approach, Supersocial partnered with Lovespun, a top digital artist and UGC creator on Roblox to bring the collection to life.
Ready to Embrace Your Inner Baby Queen?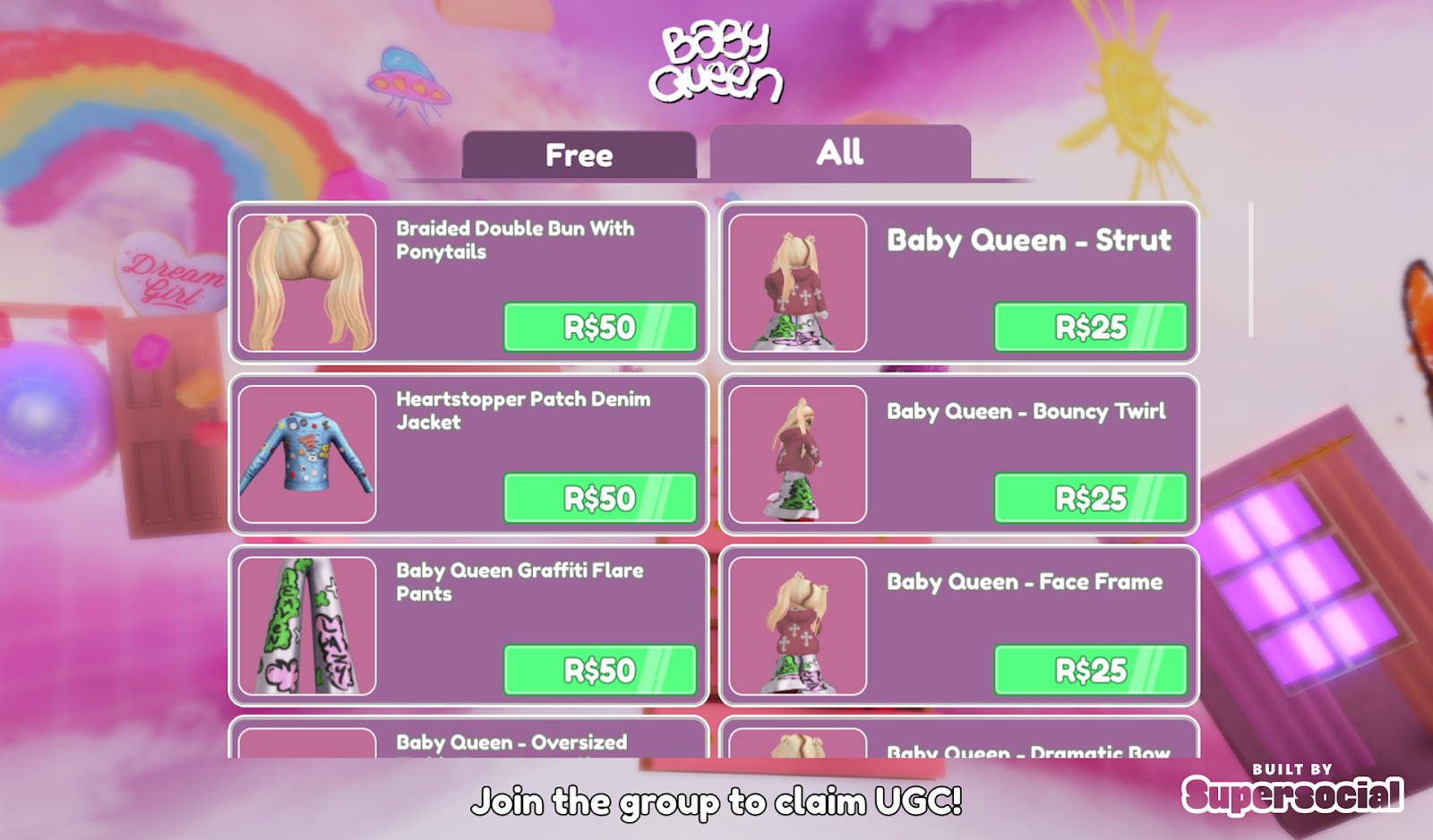 While all free Limited UGC items have already been claimed, the complete Baby Queen UGC collection is available for purchase both on the Roblox marketplace and within the Baby Queen shop experience. You can access Baby Queen's Hearstopper virtual item collection here.
###
About Supersocial
Supersocial is a metaverse company and next-generation studio that develops games and experiences on Roblox with AAA creativity and premium quality. Our mission is to create and empower digital communities to play, explore, socialize, and meaningfully express themselves as part of the next generation of the internet.

In the past six months, the team at Supersocial has grown rapidly with top industry talent joining the organization from such high profile companies such as Roblox, Nintendo, EA, Kano, Netflix, Epic Games and others. Supersocial's remote-native workplace enables team members from all over the world to seamlessly collaborate and create, combining hundreds of years of expertise in Roblox and the broader games industry to create authentic experiences designed to surprise and delight.

For more information, follow Supersocial on Twitter and LinkedIn.

Supersocial Team Credits
For a full list of Supersocial team credits click here.
Supersocial Newsletter
Join the newsletter to receive the latest updates in your inbox.