Supersocial and Toikido Ignite a Global Phenomenon with Piñata Smashlings: An Unparalleled Roblox Adventure!
July 18, 2023 -  Supersocial and Toikido are thrilled to announce the global launch of Piñata Smashlings, an imaginative, visually stunning, multiplayer game that will captivate audiences worldwide and kids of all ages. The innovative, blockbuster, premium quality game offers players a unique social experience as they explore, capture, and team up with Smashlings, the magical pet-like creatures that live in the Piñataverse – and marks the first of its kind integration of digital gameplay alongside physical product, experiential entertainment, and more.
The partnership between Supersocial and Toikido, represents a transformative step forward in both digital and traditional entertainment. In concept and design, Piñata Smashlings pushes the boundaries of what's possible on Roblox, using the latest technology to create an immersive, highly-interactive world more complex and vibrant than anything seen before. As a platform, Roblox is a beacon of boundless creativity, community-driven experiences, and, above all, inclusivity. Piñata Smashlings is designed to be a thrilling adventure for all – a game that transcends age, language, and culture – and will engage and delight Roblox's remarkably diverse community of players. With a mission to not only create an exceptional game but to inspire the millions of players on Roblox, Piñata Smashlings is ready to show the world what is truly possible within this extraordinary platform.
With an impressive reputation in crafting games and experiences for metaverse platforms, Supersocial has solidified its position as an influential force in immersive digital entertainment. Their impressive track record can be attributed to their ability to combine deep expertise in the metaverse and the skills of AAA developers and creative storytellers. Their unwavering vision and dedication to excellence have propelled them to the forefront of this immersive landscape, where they are actively shaping the future of brand engagement.
An innovative trailblazer, Toikido stands out in the entertainment landscape for consistently pushing the envelope of creative expression by blending traditional entertainment formats with emerging digital platforms. With every project, Toikido boldly showcases the company's willingness to explore uncharted territories, and marry their keen sense of innovation with an unwavering commitment to delivering unparalleled entertainment experiences. The launch of Piñata Smashlings is yet another testament to their visionary approach, and further cements Toikido's position as a vanguard in the next-generation iteration of immersive entertainment.
"Joining forces with Toikido, an emerging powerhouse in the entertainment industry, allows us to extend our innovative reach and craft a unique, engaging world that blends play, imagination, and social interaction seamlessly," said Yonatan Raz-Fridman (Yon), founder and CEO of Supersocial. "With Piñata Smashlings, we are not just creating a game; we are pioneering an immersive universe that fosters connections and fun. We truly believe this venture has the potential to reshape the gaming landscape and bring unprecedented joy to players worldwide. We can't wait for everyone to experience the magic of this wonderful colorful world."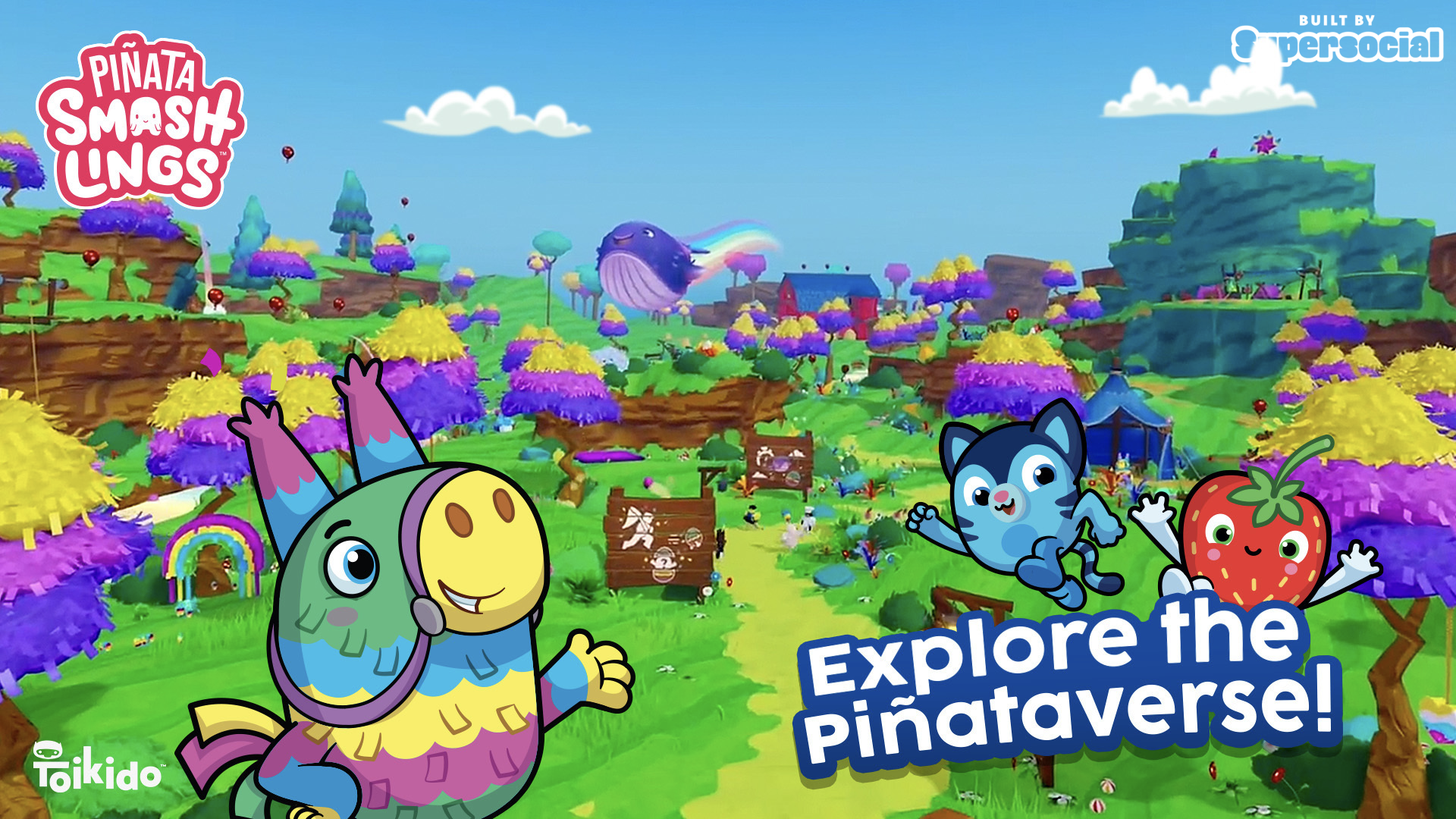 Fun Fiesta: A Colorful World Full of Surprises
When players step in to the enchanting Piñataverse, the captivating colorful setting of Piñata Smashlings, they'll find enchanting crepe paper trees, sparkling ombre streams at Rainbow Plateau, and fun-filled smashables brimming with treats. Here, in this visually-stunning, colorful environment players will encounter colorful pods scattered all across this luscious magical landscape. These are the hiding places of the enchanting Smashlings.
Using a stick and net, players must chase down these capricious pods, capturing them with a solid whack. Once caught, players can choose to tame their Smashling using treats they've acquired from smashables. Tamed Smashlings are then added to a player's party, lending their unique abilities and award stickers. These items can in turn be used to complete Stackems, unlocking new areas of Rainbow Plateau featuring exciting rare varieties of Smashlings. An innately social experience, players can strategize on how to work together to catch and tame the game's fastest pods.
"It's an exciting time for us at Toikido, especially with this collaboration with the brilliant team at Supersocial. Their proven expertise, creativity, and commitment is on display throughout the incredible world of Piñata Smashlings," said Darran Garnham, founder and CEO of Toikido. "Our vision has always been to create an immersive and interactive universe that delights and surprises, and with Supersocial as our trusted partner, we know we're in the best hands to achieve this. I honestly couldn't be more excited to witness our shared vision manifest through the astonishing capabilities of Supersocial's team. We're truly set to redefine the parameters of immersive gaming!"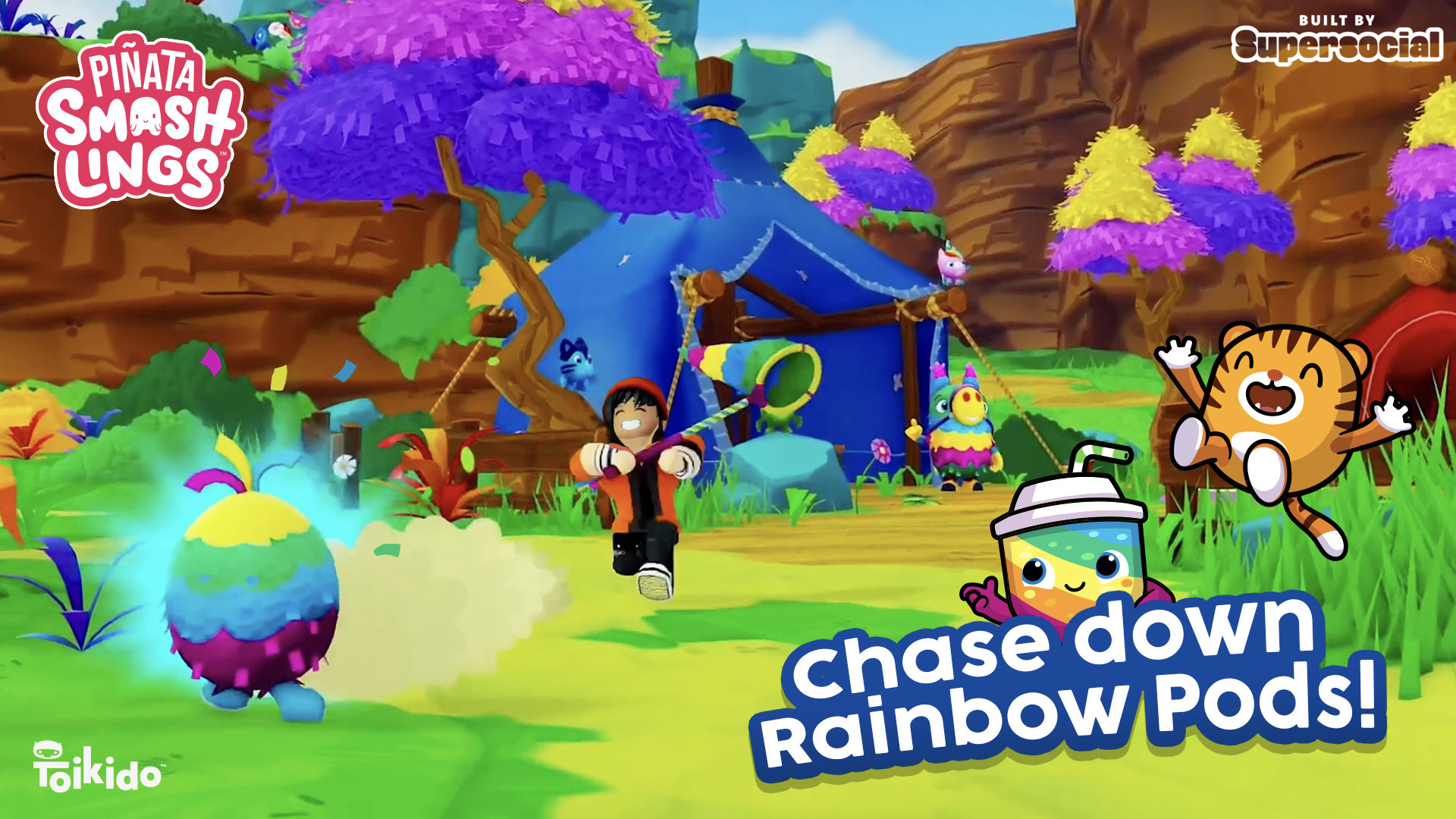 Innovative Tech That Comes To Play
The Piñata Smashlings game-world champions more than just state-of-the-art visuals on Roblox. The iconic Smashlings game world features a custom system of highly-complex, AI-based behavior, allowing characters to move, react, and interact on a deeper level than most other games on the platform. Supersocial uses new, cutting edge methods to create characters and behaviors on a scale previously unseen on Roblox. Utilizing Parallel Luau technology, the game is able to support a huge volume of lifelike characters which react to players in realistic ways. Where other experiences are limited to a couple dozen characters, Smashlings is able to support hundreds of complex characters in real-time. These characters can sense players and obstacles, analyze challenges, and move in the same way a creature might move in real life—similar to how a dog would interact with their person. In other words, characters are created with a sense of personality that engages players on a deeper level, and provides a refreshing sense of digital bonding many players will find highly appealing.
"Piñata Smashlings stands as a testament to the power of innovation, leveraging the cutting-edge technology Roblox provides," said Chris Campbell, Head of Game Design for Supersocial. "Our game supports an exceptional number of highly complex NPCs [non-playable characters], a feat that far exceeds the capabilities of most games on the platform. What makes it even more remarkable is that we achieve this with a significantly lower network footprint. It's a brilliant showcase of how technology and creativity can come together to push the boundaries of gaming experiences."
The Fun Continues IRL!
The fun doesn't stop in the digital world. As a truly immersive IP, Piñata Smashlings not only promises a compelling Roblox experience, but also serves as a springboard for these cute and cuddly creatures to leap to life- IRL, before your eyes! In April, Toikido announced the development of an animated series that will expand the amusing Piñataverse world and showcase its characters like never before. This series, premiering on a major streaming network in the near future, will bring the Piñataverse to life in another way, dazzling the viewer and connecting the immersive, digital realm to the physical world. Building on this momentum, Toikido also previously announced a line of products in partnership with Character World Brands, including toys, bedding, towels, blankets, cushions and more, which will allow fans to bring their favorite Smashlings characters to life and into their homes. This revolutionary, never-before-seen brand extension makes Smashlings the first fully-native Roblox toy line. Arriving later this year, the range will be available in stores worldwide, with the characters also making their debut appearance on the Roblox platform within the Piñata Smashlings experience. Toikido's expertise in creating iconic characters from beloved IP is second to none. This year, they were responsible for creating Albärt, UEFA's EURO2024 mascot for the #MakeMoves campaign. The adorable teddy bear is also set to appear in the Piñataverse, as well as a YouTube series and school-based curriculums.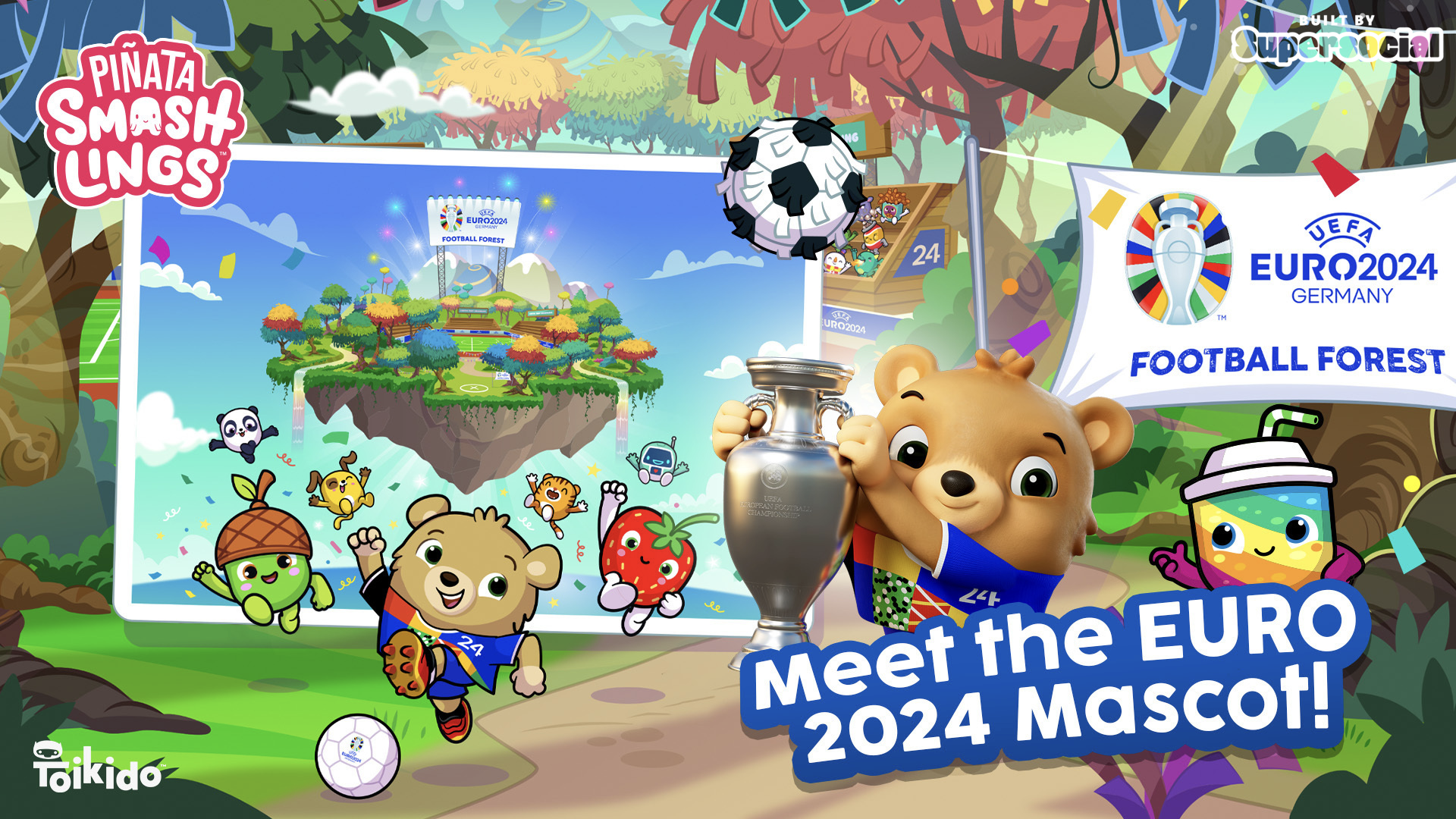 Supersocial's Expertise is Second to None
Piñata Smashlings is the second brand partner experience built and launched by Supersocial in the last two months. In 2023 to date, Supersocial has successfully built and launched two Roblox game worlds of the highest quality. Our recent triumph, NARS Sweet Rush, in partnership with the prestige cosmetics brand, received 9.5 million visits and an 83% like ratio in just one month, continuing to set a new standard of excellence for branded experiences on the Roblox platform.
Ready to Dive In To the World of Smashlings?
Piñata Smashlings is available to play now, exclusively on Roblox. To embark on this fun and fascinating journey, create or log in to your existing Roblox account and begin the adventure here.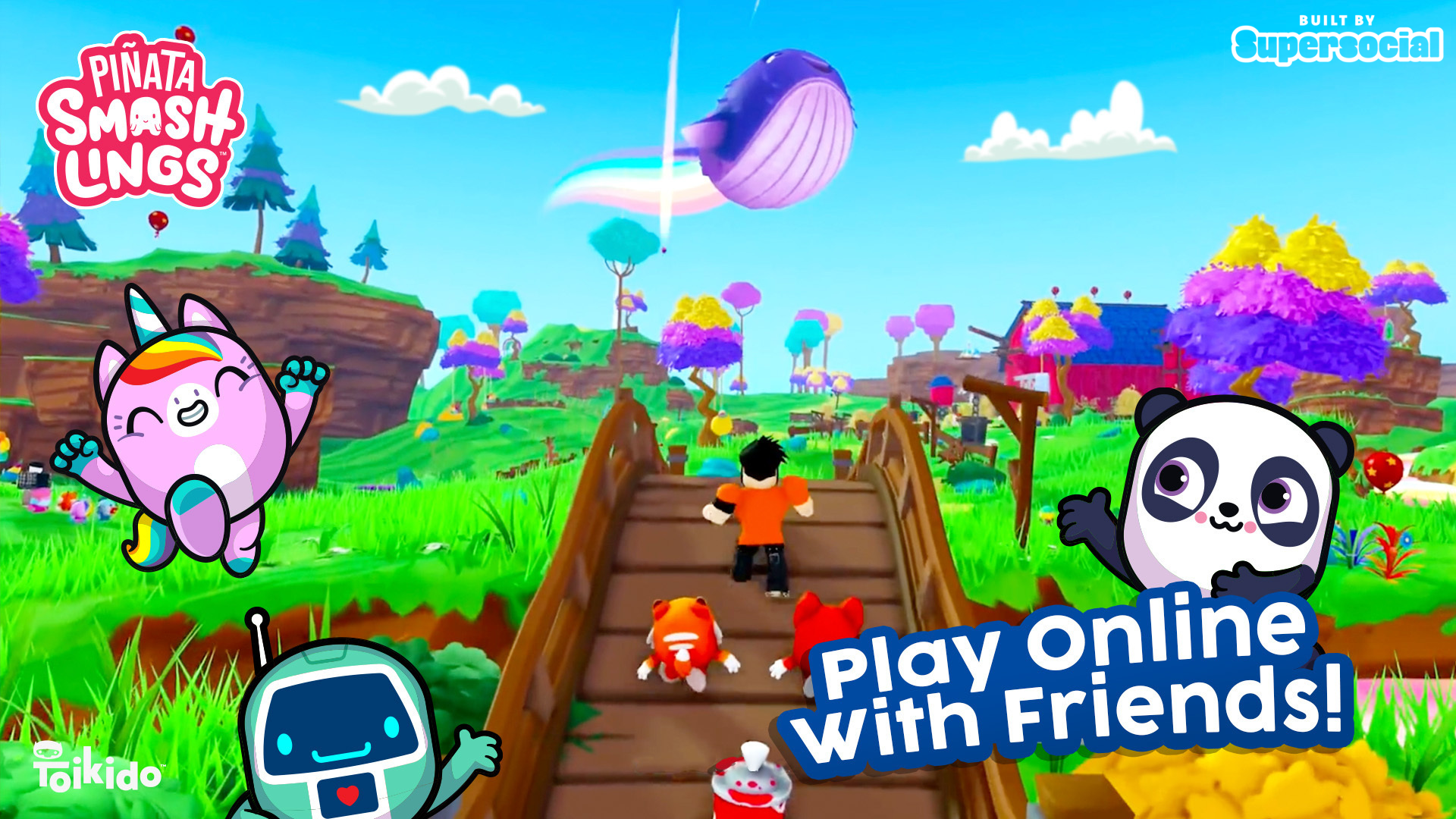 About Supersocial
Supersocial is the leading developer, publisher and operator of premium virtual worlds on the world's largest immersive social platforms - Roblox and Fortnite. The company creates insanely engaging games & experiences with superior user experience, which bring joy to next generation digital communities.
In the past six months, the Supersocial team has grown rapidly with top industry talent joining the organization from such high profile companies as Roblox, Nintendo, EA, Kano, Netflix, Epic Games and others. Supersocial's remote-native workplace enables team members from all over the world to seamlessly collaborate and create, combining hundreds of years of expertise in Roblox and the broader games industry to create authentic experiences designed to surprise and delight.
For more information, follow Supersocial on Twitter and LinkedIn.
Supersocial Team Credits
For a full list of Supersocial team credits click here.

Supersocial Newsletter
Join the newsletter to receive the latest updates in your inbox.